B.O.D. COOLING INCUBATORS
BOD test chambers are especially built to pass FDA and ICH compliance standards and have a reputation for reliability, quality and performance.
Construction as per cGMP regulations.
Consisting of refrigeration, air handling, humidification, dehumidification, temperature/humidity controlling
Microprocessor based PID Temperature controller OR
PLC based system for chamber control and auto changeover of standby system with touch screen display.
Printer interface & PC interface for data storage
Standard networking via Ethernet.
Data Acquisition system complying to US FDA 21 CFR Part 11
Data records & process control systems have Electronic Signature & Electronic Record capability. The controllers have a lockout feature that permits changes through a 21CFR Part11 compliant operator station, thus providing the necessary audit trail.
Mean Kinetic Temperature value.
Password security for log in and door operations.
Operators need to enter user name and password before taking any action.
Report search option using date and sample name.
Secure computer generated, time stamped runtime audit trail of batch stop/start, alarm acknowledgements, logins, signature details, configuration changes.
User actions with signing and authorization.
Access control according to authority level.
Export conversion facility to Excel.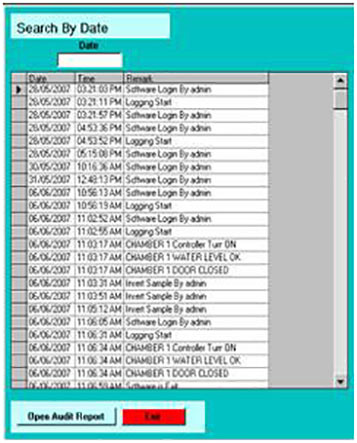 Temperature Data Logger :
4 channel or 8 channel , calibrated data logger to print date, time, temperature set and process values for mapping and auto validation. Features like printer and PC interfacing provided.
Standby Systems :
Standby refrigeration and sensor.
Mobile Alert :
Different Alarm indication through Mobile SMS Alert (from single to multi user)
Process value indication through Mobile SMS Alert(from single to multi user)
Validation :
DQ/ FAT /IQ / OQ / PQ documentation with test and calibration certificate.
Safety features :
Audio alarm provided to signal variation in temperature.
Safety digital temperature controller for main controller : In the event of failure of Micro-PID Controller the high accurate safety controller will take over temperature controlling.
In built over load protector provided for hermetic sealed compressor.
| | |
| --- | --- |
| Temperature Range | : 5°C to 60°C |
| Accuracy | : ± 0.2°C |
| Temperature uniformity | : ± 1°C. |
| Power supply | : 1 Phase, 230V ± 10% AC, 50 Hz |
Internal & External dimension :
Models
Capacity
Litres
Internal chamber
dimension
W x D x H (mm)
External dimension
W x D x H (mm)
Weight (Kg)
Trays
WIL-165A
90
450 x 450 x 450
710 x 925 x 1070
115
2
WIL-165B
200
600 x 450 x 750
800 x 925 x 1370
165
3
WIL-165C
400
600 x 600 x 1100
800 x 1090 x 1720
235
4
WIL-165D
800
800 x 750 x 1300
1000 x 1250 x 1930
300
8
WIL-165E
1000
800 x 800 x 1520
1000 x 1310 x 2150
340
10