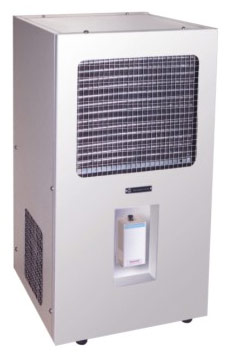 Water condensing based on refrigeration principle for positive control of humidity.
Several manufacturing processes involving the production of pharmaceuticals, chemicals and foods, high cost sophisticated instrumentation room require an atmosphere of lower humidity.
Low humidity is also imperative in packaging room, food grains and seeds storage rooms and also in warehouses where hygroscopic materials are stored.
The equipment is based on refrigeration principle and removes the moisture content of humid air in an enclosed room and condenses the moisture of the humid air into water continuously which drops into a tray.
Both heat exchanger and water condensing coils are of high transfer efficiency.
TEFC fan cooled single shaft motor fitted with forward curved centrifugal fan.
Capacity :
1.0 Ton suitable for room volume of 2250 CU.FT.,
1.5 Tons suitable for room volume of 3500 CU.FT.
2.0 Tons suitable for room volume of 3900 CU.FT.